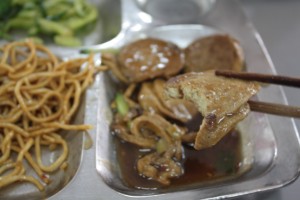 One of the benefits of our group doing self guided tours in China is the choice to dine where we want. With the help of our professor/translator, Mrs. Chen, we've been able to sample a number of chinese foods, some of which could only be best described as authentic.
Before our group ever departed on its trip, we were warned to avoid street food venders. The first thing one is likely to encounter along the streets of China is some sort of skewered critter over a flaming grill, flanked by vegetables. Sidewalks are lined with carts of cooking meats, and baskets full of colorful fruit. Both the site and the smell can be enticing, but the threat of roaming germs keeps us away.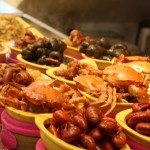 On some of mine and John's nightly walks through the markets, we have been able to sample from the oddly flavored packaged foods available. We've tasted steak flavored Cheetos, blue berry gum, French Chicken potato chips, and I think coconut flavored gummy worms.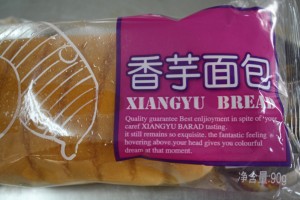 Aside from snacking related ventures, China's grocery stores have a lot of whole foods to choose from compared to the Big Star and Walmart selection back home. Shoppers get to pick from fresh meats packed in ice then move on to tanks of live fish. We even found whole, dried chickens.
Since our arrival at Nanajing University we've mostly dined at the school's less threatening cafeteria. There are three caferterias on campus, two smaller ones and one larger. The choice of foods have been fairly consistent. Rice, of course, is a staple food served with each meal if the eater asks, or points in our case. Then, there are usually a number of greens to choose from, some squashes, meats…and tofu.
I have no quarrel with tofu, or at least I didn't. Four, maybe five times now I have pointed to what appeared to be some sort of meat cooked with a nice mix of squash and sprouts only to find out upon first bite that some crafty chef had manipulated the bean derived sponge into a meat textured and shaped illusion. I have now sampled tofu-chicken, tofu-beef, tofu-pork, and tofu-sausage. Unless I am in the mood to be entertained, I will be pointing to the meat with distinct boney parts for the remainder of our trip.