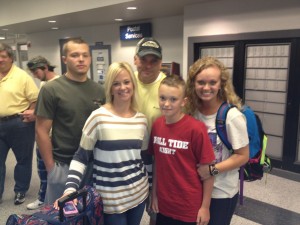 Packing, trying to stay awake so I can sleep on the plane, and fighting off a virus: that's what I am doing as I prepare to leave America and travel to China. I am a terrible packer because I bring way more than I will ever need, but I used vacuum pack bags in order to bring plenty of clothes. I am apparently a very high maintenance traveler, but I'm okay with that.
I woke up this morning with a terrible stomach virus. That's just my luck, by the way. I hope it isn't an omen of how the trip will be. As the day has turned into night, my virus has gotten a bit better, so hopefully I will not have to use the necessary bags on the plane, if you catch my drift.
I am so excited about this trip. I know that it is going to be the experience of a lifetime, and I can't wait to soak it all in. I am very sad to miss Mother's Day and my brother's high school graduation, but my family wanted me to be able to experience this. I will just have to make it up to them with A LOT of gifts.
I am a bit nervous about traveling and living in a foreign land. My little brother prayed, "God please wrap everyone on the trip in your arms." The prayer was perfect, and I know God's arms will be wrapped around us. It is so amazing to be able to do something like this, and I am so thankful for the tremendous blessing.
I hope to make some new friends, especially Chinese friends, to be immersed in the Chinese culture, and to learn a lot about myself in the process. I cannot even fathom what it is going to be like when I get there. All I can imagine is a whole new world, and that is so fascinating to me.
China here I come!